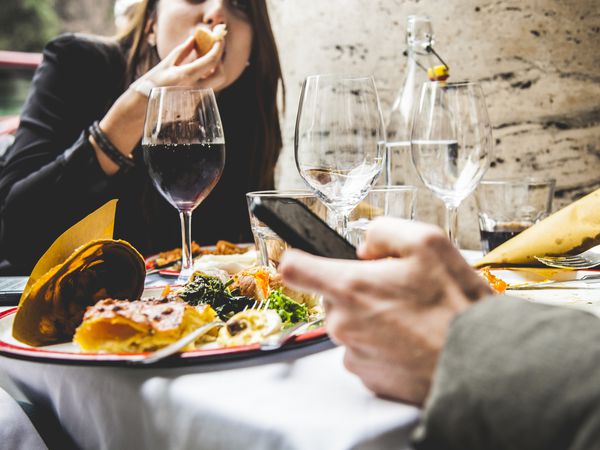 "PRIVATE DINING REQUEST" APP FEATURE:
Patent-pending and in development, from whatever U.S. city and state you are in (or visiting;) #PrivateDiningRequest (app) gives dine-in patrons the convenience of selecting the (dine-in) restaurant by:
▪︎Cuisine /specialty
▪︎Menu price (lowest to highest)
The app's GPS/map will lead patrons to the location from wherever they are (to whatever restaurant they choose).
Additionally, part II of this app, as an option (courtesy of participating restaurants), while dining; patrons may opt for a "PDR" app experience-that is…upon introduction of the server (who will already be aware the customer opted for PDR- because they will have scanned the #QRcode connected to their table) after food is brought out, all, if any, further contact/communication from patron to server will be done via SMS/text -up to and including asking for the check.
COST:
Via iOS and Google Play, the Private Dining Request app will be a one-time (for unlimited use of the 50-states comprehensive casual and fine dining list-free to use-whenever, where ever you dine out!)
As it is currently being built in, use of the Private Dining Request feature will also be available for all app users! 
STICK A FORK IN IT:
Until we are able to mass-market it (with a least a few restaurants on board), as a courtesy and convenience of a consolidated culinary experience for you-right at your finger tips-we invite you to take full advantage of:
🍴 Casual Dining Restaurants List + Menu Price Range + Specialty
🍴 Fine Dining Restaurants List + Menu Price Range + Specialty
DIG IN TO THIS:
*Private Dining Request does not endorse, nor are we in partnership with any of the casual or fine dining restaurants on these lists or anywhere on this site. We are merely providing you (our app customers) condensed and comprehensive lists of casual and fine dining varieties that are using or that we are currently, or intending to market our Private Dining Request service to. Having them all listed (whether or not they use the PDR feature at their establishment) does not constitute an endorsement from us, either way).